How would you like to MULTIPLY THE IMPACT of what you are already doing, so you can give more value to more people, and make more money...

WITHOUT working more hours?
Learn how to create your own INFO-PRODUCT
Quickly and Easily.

| | |
| --- | --- |
| | Create passive income |
| | Monetize your ideas |
| | Spread your message GLOBALLY |
| | Earn additional, complementary streams of income |
| | Increase your expert status... FAST |
| | Quickly grow a loyal community |
The Laptop Mom S.U.C.C.E.S.S. System Bootcamp is a 7-part audio series that teaches you how to transition your service-based business into a leveraged, freedom-based model, so you can serve more people, make more money, and gain complete flexibility. This is literally the EXACT step-by step formula women use to build a flexible, freedom-based business that allows them to make money without sacrifice.
RECEIVE THE FIRST MODULE INSTANTLY - as soon as you register.
Each module is delivered to you by email every 7 days.
This bootcamp is for you if you want to:
leverage your existing business to reach more people without working more hours


build a business from scratch - without the need for rent or inventory... or daycare!



quickly create an information product for passive income



clarify specifically what makes you unique - so that you stand out in the marketplace


systemize your business so you can get more done in less time


work from home (or anywhere)


get back your self-esteem, grow professionally, and make a difference in your life, your family's lives, and the world!
Listen... you want to run your own business so you can have the freedom and flexibility to take care of family priorities.
But unfortunately, most moms fall into one of these categories:
You are working very hard - and very long - to try and make a living, and family priorities are being sacrificed





OR




You have sacrificed your own fulfillment and self-esteem to take care of your family

The Laptop Mom S.U.C.C.E.S.S. System shows you how to have BOTH...

A fulfilling, profitable business
that allows you the freedom and flexibility
to live your life on your terms
Here is a sampling of what you will learn in this series:
How to quickly create a Passive Income Product that allows you to make money AFTER you are done working
No more relying solely on the hours for dollars business model. If you want to create more wealth AND more time for yourself and your family, you've GOT to have passive income streams.
Learn how to package your knowledge in a way that is wanted by others - who are willing to pay you for it! You will discover ways to automate the selling process, so you can make money when you aren't even working.
With the Laptop Mom system and easy fill-in-the-blank templates, you can have your product completed in one day!
"Nika's step-by-step instructions made it easy"
"Nika helped me develop the confidence and knowledge to develop products for sale. And after years of thinking I knew my target market, I'm now sure who my target market is and what is my product niche.
I have worked with other marketing professionals who have told me what to do, but never how to do it. Nika's step-by-step instructions have taken the stress out of marketing for me and made it easy… at a fraction of the cost that I had previously been spending.
If you are struggling with getting new clients or making money, Nika has many ideas and teaches the best way to implement them. She holds nothing back and is enthusiastic and supportive."
Connie Deamond, Delaware
www.conniedeamond.com

Secrets of 6-figure Moms: How to model successful Laptop Moms so that you can achieve the same results
"If you want to be successful, find someone who has achieved the results you want and copy what they do and you'll achieve the same results."
- Tony Robbins
I share specific case studies of moms who are making 6 figures and more. You'll learn the exact strategies and techniques they are using to create and maintain a flexible, profitable business - so you can model them and get the same results!
"Having the specific models made launching my online business so easy."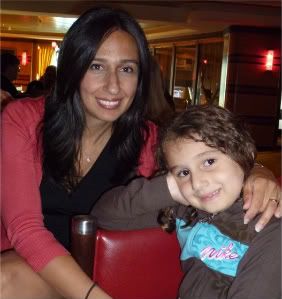 "I felt so desperate to find a way to do something I love and feel good about myself and the value I am providing, but I didn't want to give up being around for Holly. Your business model was my solution.
I am now running a business from home, which is creating a great extra income for my family and giving me back my sense of fulfillment and self-esteem. And I don't sacrifice any family time!
Thank you, Nika, for your guidance and inspiration!"
Louise Peddell, Healthy Habits Healthy Kids
Matawan, NJ
The best ways to capture ideal prospects on the Internet
and turn them into paying clients
To grow a thriving Laptop Mom business, you must grow a community of targeted prospects. With a strong list of potential clients, you are able to promote your products and make sales easily.
This module will show you the best ways to attract the people who need and want what you offer, and capture their contact information so that you can market to them in ways that get them to buy!
In the Laptop Mom S.U.C.C.E.S.S. System Bootcamp, you will learn:
the latest list-building strategies that are working right now
how to get your list growing NOW - even if you don't have a product or website yet
how to quickly create an irresistible offer that attracts ideal clients
exactly what you need to do to turn prospects into paying clients
"I went from 20 to 250 subscribers in one month. My blog traffic grew over 1100% in 4 months!"


"Although I've been in business for 15 years, there are always new things to learn... and getting the latest tips and information all in one place, from the comfort of my home office, was wonderful!"
Kathleen Ellis, Pennsylvania
Kathleen Ellis Lifestyle Design

How to jumpstart your home-based business,
even if all you have is an idea
The biggest obstacle in business (every day) is getting started. Once you've got momentum, it gets easier - and more fun!
Have you ever had these thoughts?:
"How do I turn my ideas into a business that pays me money?"
"If only I had a specific roadmap with easy-to-follow steps."
"I would love to have my own successful business, but I just don't know how to start."
The Laptop Mom S.U.C.C.E.S.S. System Bootcamp gives you the exact step-by-step formula for building a flexible, freedom-based business on YOUR terms. You will be able to make money from home using your knowledge and talents.
"I started with just a vision..."
"...and Nika has given me all the tools and resources I need. I feel vastly more prepared. Now I've got the safety net - the resources to go back to over and over. This was worth every penny of my investment.
Nika is refreshingly authentic and vulnerable. She really knows her stuff and is so approachable. She is not judgmental. She is an encourager."
Neysa Thorell, The Couture Window
Montgomery, TX
How to get others to do the work for you
If you want to succeed at a higher level, you can't do it alone. But do you need to hire employees, pay benefits, and allow strangers into your home office?
No!
There is an easier, more effective way to build a team of virtual assistants that support YOUR objectives and make your life easier. Don't think that you need to wait until you have more money. I will show you how hiring more people will actually earn you more income!
In the Laptop Mom S.U.C.C.E.S.S. System Bootcamp, you will learn:

how to find and hire assistants
how to delegate lower-level tasks to others so you can focus on making more money
what to delegate – and what you should NOT
how to outsource tasks and responsibilities so you can take more time off while making more money
"Okay, Nika. So now that I know what I will learn, tell me HOW I will be learning it!"
Here are the SPECIFICS of how we're going to do this:
1) 7-Part Audio Series
Each week, you receive an audio training session that you can listen to on your computer, or download to a CD or iPod. Your first lesson comes to you instantly, as soon as you register. Every seven days, you receive another audio training.
In these SEVEN training sessions, I walk you step-by-step through my proven system. Each audio builds on the last, and includes specific examples to clarify the lesson.
These recordings will be a part of your success library for a long time, and you can refer to them over and over again, as you need to.
2) Written Transcripts of Every Lesson
You can read along or highlight parts you want to remember. Download and print these transcripts to keep in your success library.
3) Worksheets and Templates
I make your business-growing activities even easier with templates and worksheets. My fill-in-the-blank outlines will save you hours of time and stress.
Worksheets are included with every audio lesson, and accompany them each week.
4) My 6-Figure Laptop Mom Resource Rolodex

You'll receive access to my Success Directory, filled with many resources, vendors, and suppliers to turn to as you build your Laptop Mom Business. These vendors are tried and tested. They are the ones that my clients and I use for consistent results.
This alone will save you many hours of stress and lots of money.
Okay, how much?
The entire program is just $497. $297
I know how important cash flow is, so you can also use an easy installment plan.
PLUS, you are protected by my "Make Me Happy" Guarantee.
I'm confident that you are going to love this program. And I know that if you use the step-by-step formula, you will be running a fulfilling Laptop Mom business from home very quickly. To back that up, I'm allowing you to listen to the first 2 audios without risk. If by the end of the 2nd training session, you decide that I'm not living up to my promises, simply let me know, and I'll give you a full refund.


Are you ready? Register now, and you could be running a rewarding, profitable business from home by next month!
I'm ready to leverage my time, so I can run a fulfilling business from home!

RECEIVE THE FIRST MODULE INSTANTLY - as soon as you register.
Each module is delivered to you by email every 7 days.
Choose one payment option:
Pay in full
One payment of $497 $297 (special promotion)
Pay in 3 monthly installments of $197 $127
(each charge is billed 30 days apart)
Run a rewarding, profitable business from home.
No daycare needed.
Leverage your time, create passive income, give big value to the world,
and make money on your own terms.
Legal disclaimer: Every effort has been made to represent our program accurately. Each individual's success depends on his or her background, dedication, desire, motivation, and effort. There is no guarantee that you will have the same or similar results as those in our testimonials. As with any business endeavor, there is an inherent risk of loss of capital and there is no guarantee that you will earn any money.
Nika Stewart Enterprises, LLC
10 Stream Bank Drive
Freehold, NJ 07728
1-877-455-2094
customerservice@nikastewart.com